Educational innovation and tailor-made curricula for schools, museums and NGOs
Teaching materials for creative subjects focused on sustainability, insight into (digital) media and advertising, and social-emotional skills
Yeti Curriculum Design provides convenient and quick-to-use teaching materials with teacher guides for the creative subjects in primary education. The material is in line with the 21st century skills of the SLO with a few extras. The focus is on creative thinking (rethinking / problem-solving thinking), sustainability, social-emotional skills, self-management and use of digital media. Learning (and thinking) through play is central to this. Yeti offers the most complete teaching program for creative subjects that you as a teacher can work with very quickly and easily.
The complete curriculum runs from group 1 to group 8 and is structured in such a way that many techniques are offered and cross-curricular lessons are given (Steam Plus!). Yeti's teaching offer is above all very easy and quick to use. It is also unique because it uses:
a lesson plan with lessons that can be used online or offline, via IWB or print.
a clear and easy to use teacher's manual.
The 21st Century Skills of Yeti Curriculum Design

Why sustainability?
Through digital media, but also through news and conversations, children already learn a lot about what is going on around climate change, sustainability and the conservation of the earth. By teaching children about soil, water, air, animals and plants and by offering them a clear trade perspective, students gain a better grip on the consequences of climate change in a positive way. By offering simple ways to make a good contribution to the environment and living environment, they learn to help restore the earth and deal with it better in the future.

Why Social-Emotional Skills?
Children get a lot done. More and more is expected of them and it is becoming increasingly difficult to have a positive outlook on life. By guiding children in their social-emotional skills, they learn to get a better grip on their own behaviour, to gain more understanding for each other and they learn how to help others. By teaching children that their emotions but also mutual differences are important, each child gets more respect and thus finds a place within the group more easily. Moreover, they learn to deal with the emotions of themselves and of others.

Why insight into media and advertising?
Children are exposed to advertising and social media at a very young age. When children learn to better maintain themselves in the (digital) world and learn to understand how that world works, they can make better choices in the future in the world of social media and advertising. Children learn about the purpose of advertising, how computer algorithms work that keep track of your interests and how digital media can contribute to a (often negative) self-image. This gives students a better grip on social media and advertising and what their own role can be in this.
---
Yeti wants students to enjoy going to school and that teaching is made easier for teachers. We do this by:
Teaching materials in simple visual steps: students can get started right away.
Differentiation per lesson in the form of additional background information / theoretical knowledge.
Clear, short manuals for teachers with a list of supplies per lesson.
---
Unique 3 Unit:
Lesson Plan, Teacher's Guide and Student Competency Tracking System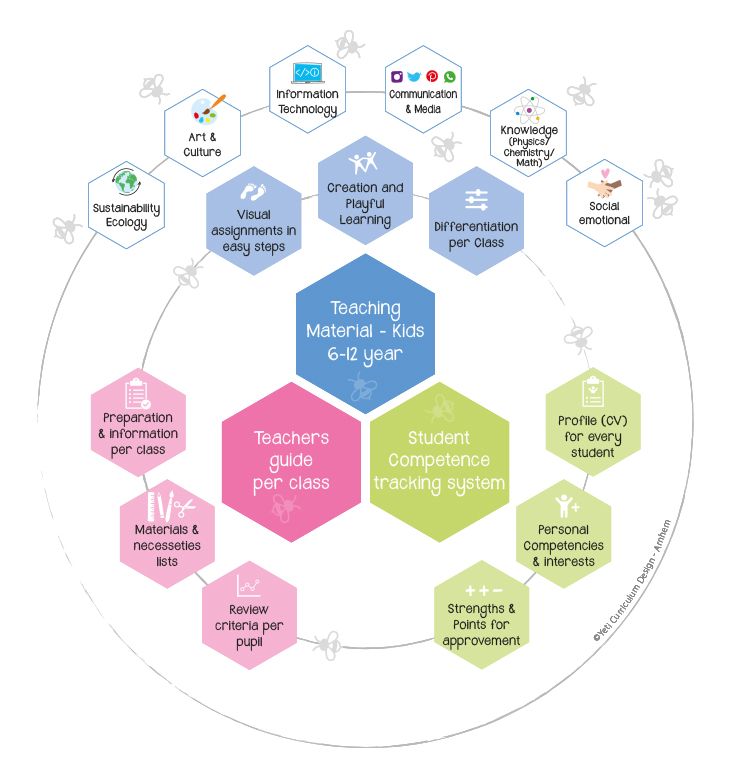 LESMATERIAAL
The teaching material is intended for primary school children. All of the above goals are included in the full program. from sustainability, critical thinking, IT-skills, (Social) Media Understanding to social skills. Modules can also be used separately.
DOCENTENHANDLEIDING
Each lesson module has its own teacher manual, specifically aimed at the lesson. Each teacher's manual includes a list of supplies and additional information. This will save a lot of preparation and time. Download and use immediately!
LEERLING COMPETENTIE PROFIEL
When using the full curriculum of YETI, a student profile system is offered. Each student builds up a profile of personal skills and qualities over the years. This serves as a good personal passport for secondary education and for future life.