NL

YETI DESIGN, Snel bruikbaar en overzichtelijk lesmateriaal voor creatief denken in het basisonderwijs
Volgens de richtlijnen van het SLO
Yeti maakt lesmateriaal voor de creatieve vakken in het basisonderwijs dat aansluit op de 21e-eeuwse vaardigheden van het SLO. De integrale focus ligt op creatief denken (omdenken/probleemoplossend), gebruik van digitale media, sociaal-emotionele vaardigheden, zelfsturing en duurzaamheid. Daarbij staat spelenderwijs leren (en denken) centraal. Het complete leerplan loopt van groep 1 tot en met groep 8 en is zo opgebouwd dat veel technieken aangeboden kunnen worden en dat er vakoverschrijdende lessen gegeven kunnen worden. Daarnaast is het lesaanbod uniek doordat er gebruik gemaakt wordt van een drievoudige basis: een lesplan met docentenhandleiding en een leerlingvolgsysteem op basis van hun persoonlijke interesses en kwaliteiten.
Yeti wil dat leerlingen met veel plezier naar school gaan én dat lesgeven voor docenten makkelijker gemaakt wordt. Dat doen we door:
Lesmateriaal in eenvoudige (visuele) stappen: leerlingen kunnen zelf direct aan de slag.
Differentiatie per les in de vorm van extra achtergrondinformatie, culturele en/of theoretische kennis.
Duidelijke, korte handleidingen voor docenten met lijstje van de benodigdheden per les: weinig voorbereiding nodig.
Competentieprofiel volgsyteem* waarbij leerlingen een persoonlijk profiel van competenties en interesses opbouwen.
Keuze voor een volledig lesprogramma of losse lesmodules.
Het lesmateriaal van Yeti gaat grotendeels uit van de richtlijnen van het SLO, maar met een paar extra's. Naast de bekende 21e eeuwse vaardigheden is er extra aandacht voor duurzaamheid en ecologie, sociaal-emotioneel denken en handelen, maar ook voor de invloed van social media en reclame op ons denken en doen. Zo biedt Yeti het meest complete lesprogramma aan voor de creatieve vakken waar ook nog eens heel eenvoudig mee te werken is.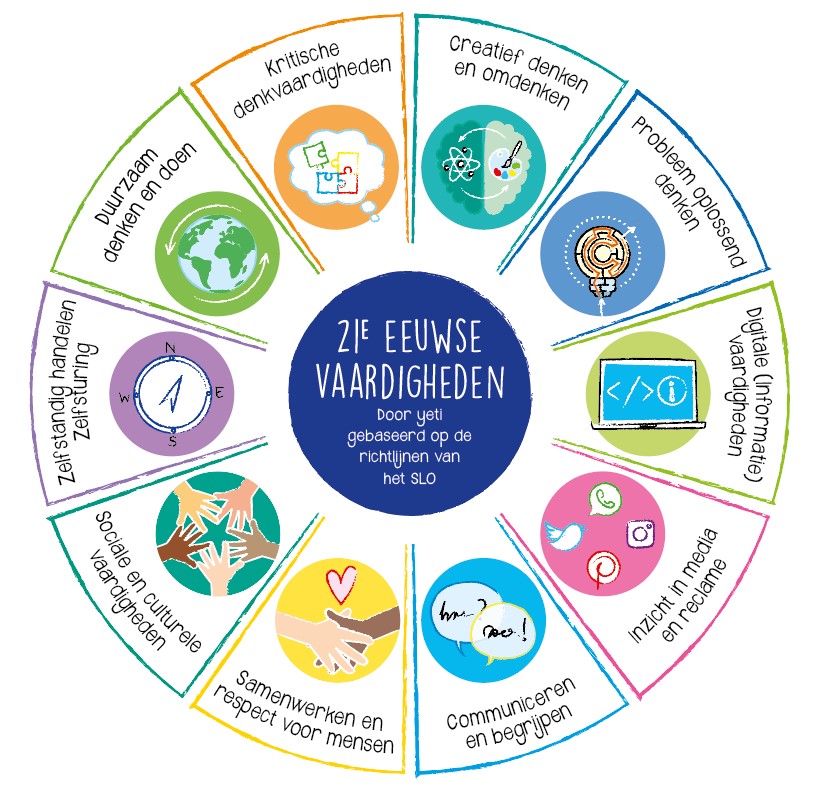 ---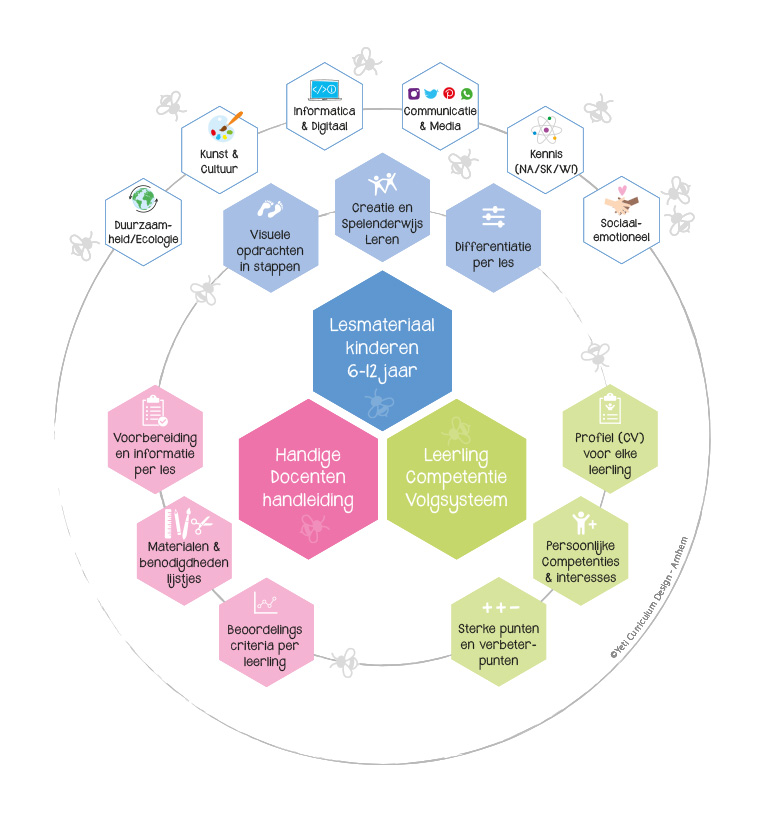 DOCENTENHANDLEIDING
Elke lesmodule heeft een eigen docentenhandleiding, specifiek gericht op de les. In elke docentenhandleiding is een lijstje met benodigdheden en extra informatie opgenomen. Dit scheelt heel veel voorbereiding en tijd. Downloaden en direct gebruiken!
LESMATERIAAL
Het lesmateriaal is bestemd voor kinderen op de basisschool. In het volledige programma zijn al bovenstaande doelen opgenomen. van duurzaamheid tot kritisch denken en IT en van (Social) Media tot sociale vaardigheden. Modules zijn ook los te gebruiken.
LEERLING PROFIEL
Bij gebruik van het volledige curriculum van YETI wordt een leerling profiel systeem aangeboden. Hierbij bouwt elke leerling door de jaren heen een profiel op van vaardigheden en kwaliteiten. Hiermee wordt een mooi paspoort geboden voor het middelbaar onderwijs.
---
YETI staat voor Yottabytes aan Educatief materiaal, Direct Toepasbaar en Illustratief. Kijk gerust even rond op deze website. Wil je meer informatie? Neem dan contact op, bel 06 - 36 39 55 19 of mail voor een vrijblijvend gesprek.
EN

YETI DESIGN, quickly usable lesson plans for creative thinking skills in primary school
According to the 21st century skills (by SLO)
Yeti is a developer of teaching materials for creative subjects in primary education that match the 21st-century skills. The main focus is creative thinking (rethinking/problem solving), use of digital media, social-emotional skills, self-management and sustainability. Learning (and thinking) through play is a given. The complete curriculum is developed for age 5 to 14 (Key stage 1 to 3) and is structured in such a way that many techniques can be offered and most lessons are cross-curricular. In addition, the curriculum is unique because it uses a threefold basis: a lesson plan with a teacher's manual and a student tracking system based on each students' personal interests and qualities.
Yeti-Design wants kids to enjoy going to school and we want to make teaching easier for teachers. We achieve this by:
Teaching material in simple (visual) steps, Students can get started immediately.
Differentiation per class in the form of additional background, cultural and / or theoretical knowledge.
Clear and short teacher manuals offering an overview of the requirements per lesson: little preparation is needed.
A competency and interests profile tracking system* for students throughout the curriculum.
Offering a choice for the full creative curriculum or individual modules.
Yeti's teaching material is largely based on the SLO guidelines with a few extras. In addition to the well-known 21st century skills, extra attention is paid to sustainability and ecology, social-emotional thinking and acting, as well as the influence of social media and advertising. Yeti offers the most complete curriculum for creative subjects that is also very easy to work with.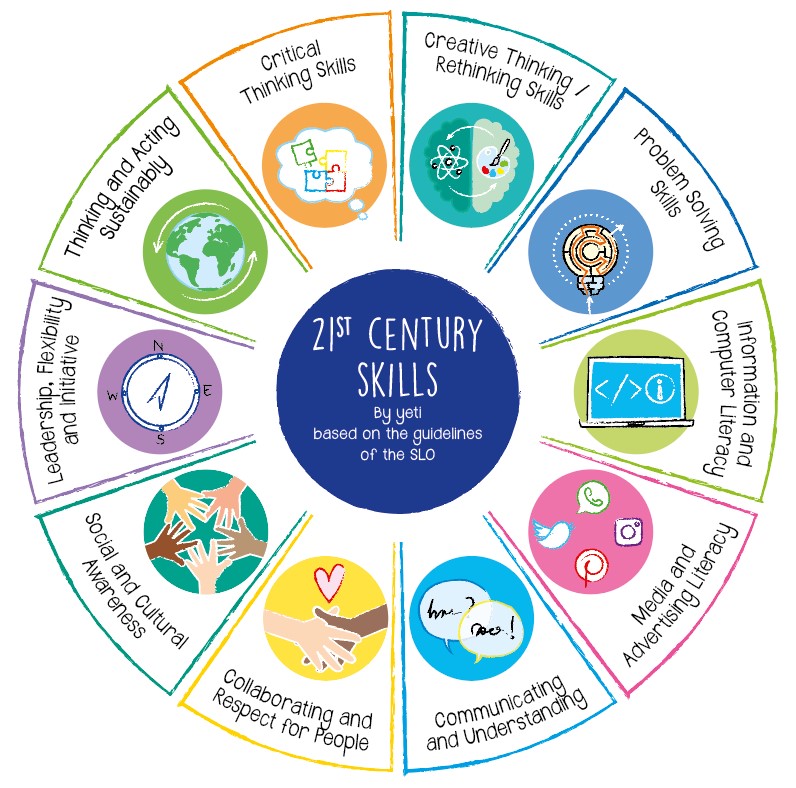 ---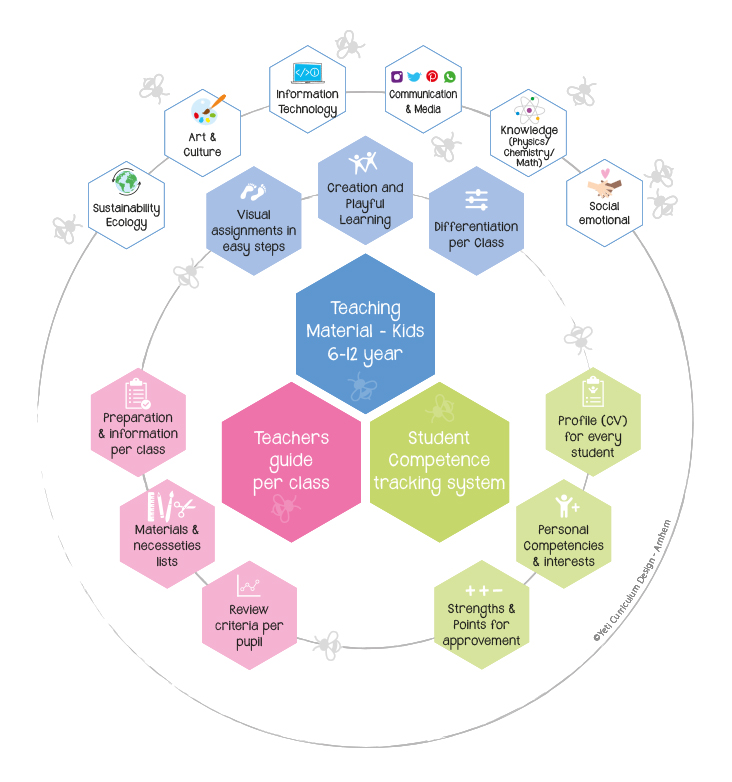 TEACHERS GUIDE
Each lesson module has its own teacher manual, specifically aimed at the lesson. Each teacher's manual includes a list of supplies and additional information. This saves a lot of preparation and time. Download and use immediately!
TEACHING MATERIALS
The teaching material is intended for primary school children. All of the above goals are included in the full program. from sustainability to critical thinking and IT and from (Social) Media to social skills. Modules can also be used separately.
STUDENT PROFILE
When using the full curriculum of YETI, a student profile system is offered. Each student builds up a profile of skills and qualities over the years. This serves as a good personal passport for secondary education.
---
YETI stands for Yottabytes of Educational Material, To the Point and Illustrative. Feel free to take a look around this website. Do you want more information? Please contact us, call +316 3639 5519 or email for a no-obligation conversation.